You love your children too much to have them miss the fun of swimming because they're afraid. What keeps me working with these challenging swimmers is the look on their faces when they have conquered their fears. It's something you'll remember all your life.
—Linda Riggins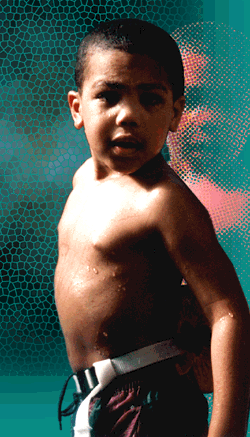 Reassuring Young Children
With children under five years old, it's very difficult for you to reason away fear. It's better to acknowledge their feelings and reassure them that you would not put them in any danger. When you come to Linda's, we ask you to bring them into the pool area already dressed to swim. Let them look around a little, then calmly hand them to Linda, who will take it from there. Linda will work to establish rapport with your child. Once she gets your daughter talking about her dog or your son about his favorite toy, the children will begin to relax. Then they'll be trusting enough to start learning to swim.
Standing Fast With Older Children
With children five years and older, you need to be committed to helping them overcome their fears. Be ready to stand fast no matter how much they protest. You don't want them to "cry their way" out of swimming. It's unfair to children to have them work partially through a fear and not experience the pride that comes from conquering it. And once they conquer it, they'll be ready to have fun swimming.
Questions? Comments? E-mail us at: swim@lindariggins.com